Royal Canin Chihuahua Adult Wet Dog Food - 12 x 85g
Royal Canin Chihuahua Adult Wet Dog Food - 12 x 85g
Royal Canin Chihuahua Adult Wet Dog Food is suitable for Chihuahuas from 8 months old. This delicious Dog Food loaf recipe looks after all the nutritional requirements of your adult dog.
Why Should I Buy Royal Canin Chihuahua Adult Wet Dog Food?
This Dog Food recipe is designed to look after your dog's digestive system. It contains all the nourishment needed to help your dog enjoy healthy skin and a glossy coat. Because Chihuahuas can have a fussy appetite Royal Canin Chihuahua in Loaf has a specially textured compound which makes it more palatable for your dog. It also satisfies the appetite of even the pickiest of Chihuahuas! The soft texture of the loaf is also perfect fodder for the jaws of the Chihuahua.
What Is In Royal Canin Chihuahua Adult Wet Dog Food?
Composition
Meat and animal derivatives, derivatives of vegetable origin, cereals, oils and fats, minerals, various sugars. Crude ash: 2.1%. Crude fibre: 1.4%. Crude oil fats: 5.6%. Moisture: 79%. Protein: 8.5%.
Additives
Vitamin D3: 200 IU, E1 (Iron): 8 mg, E2 (Iodine): 0.2 mg, E4 (Copper): 1.9 mg, E5 (Manganese): 2.6 mg, E6 (Zinc): 26 mg - Technological additives: Clinoptilolite of sedimentary origin: 2 g.
How Much Royal Canin Chihuahua Adult Wet Dog Food Should I Give To My Dog?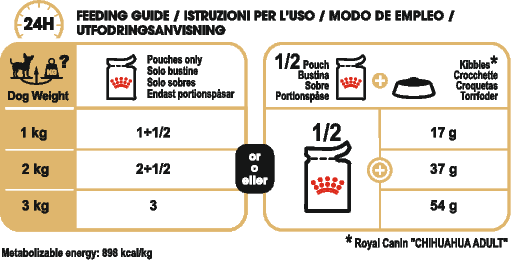 * Feeding amounts should be amended to suit your individual dog, based on their body condition score and other factors. Please ask your vet for further advice.